1600 Rosecrans Avenue
Manhattan Beach California
Property Type
Film and TV Studio
A Unique Studio and Media Campus Located in the heart of the Rosecrans Corridor.
MBS Media Campus features a collection of the largest and most well-equipped sound stages in the country, accompanied by comprehensive production resources, rentals and onsite post facilities–all on a state-of-the-art campus in the highly coveted Manhattan Beach, California submarket.
The studio serves as headquarters of Lightstorm Entertainment, the company of filmmakers James Cameron and Jon Landau and its Avatar franchise, Disney's Marvel Studios, 20th Century Fox, ILM's state-of-the-art virtual production volume, INTEL Global Production Labs and OGN Gaming.
Built in 1999, MBS Media Campus offers 15 sound stages, totaling 385,000 square feet, 190,000 square feet of office space and 110,000 square feet of production support space. A total of 1,352 vehicle and trailer parking spaces are provided by a combination of a central parking garage and surface parking surrounding the stage and office buildings.
Located on the Rosecrans Corridor in the South Bay of Los Angeles, MBSC is surrounded by Manhattan Beach to the West, El Segundo and LAX to the North, Hawthorne to the East and Redondo Beach to the South. MBSC is situated in one of the most popular locations in the South Bay due to its central location within the submarket, proximity to executive housing, multiple forms of mass-transit and abundant amenities within walking distance.
MBS Media Campus is one of the largest and best quality movie and television production facilities in the County of Los Angeles.
Related News
Courtesy of Roger Vincent, LA Times (August 7, 2019)--Manhattan Beach Studios, a 22-acre production facility…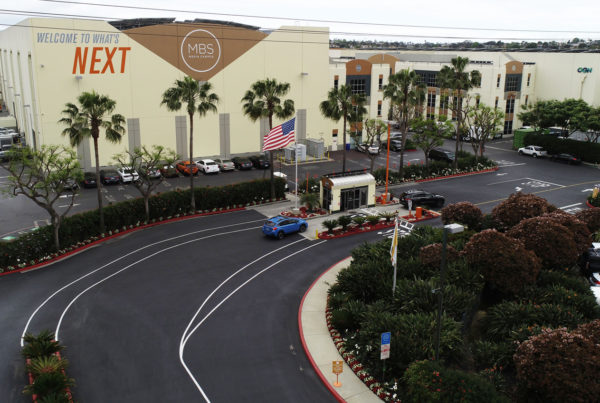 LOS ANGELES and WASHINGTON (August 8, 2019)—Hackman Capital Partners announced today that it has acquired,…
Courtesy of Max Gross, Commercial Observer (August 7, 2019)--The Carlyle Group is selling its MBS…