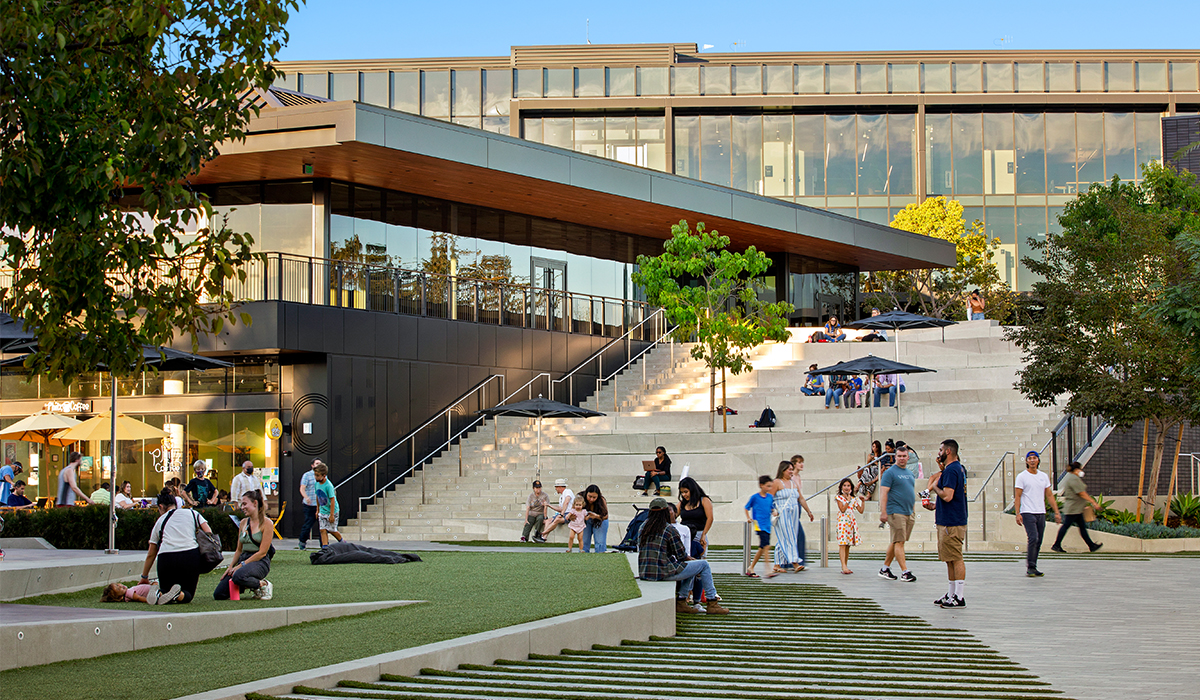 Hackman Capital Partners and Kennedy Wilson Brokerage, a division of Kennedy-Wilson Properties, Ltd., today announced The Culver Steps, located at 9300 Culver Blvd, is officially fully leased. The best-in-class 120,000-square-foot mixed use development features approximately 42,000 square feet of retail and restaurant space, 80,000 square feet of creative office occupied by entertainment giant Amazon Studios. Adjacent to The Culver Steps is a nearly one-acre public plaza and subterranean parking, all managed and operated by The Culver Steps team.
The development's 11 curated retail tenants span an array of leading food and beverage, beauty, and wellness brands including organic grocer Erewhon, which opened today, Sephora, Mendocino Farms, Philz Coffee, Pop's Bagels, Afuri Ramen + Dumpling, Yunomi Handroll, Salt & Straw, CorePower Yoga, and Formula Fig. Kennedy Wilson Brokerage's Executive Vice President & Director of Retail Lee Shapiro and Senior Vice President Christine Deschaine represented the landlord, an affiliate of Hackman Capital Partners, in the transactions.
Located across from the historic Culver Studios and Culver Hotel, The Culver Steps development in downtown Culver City marks a major milestone in the City's growth and infrastructure.
"The success of this project is a combination of Hackman Capital's vision for the property, a great location in a desirable market, and experienced commercial agents driving value for our client," said Shapiro. "Our team received more than 150 offers for the then available 42,000 square feet of retail and restaurant space. Operators want very much to be here."
The downtown Culver City trade area has been one of the hottest retail, restaurant and office development markets in the region in the last five years, driven in part by Metro's completion of the Expo Line in 2016. The area's most recent mixed-use projects include The Platform, The Culver Steps and Ivy Station. Amazon Studios, Apple, HBO and Warner Media, amongst others, have all made the area home with significant office lease commitments.
"The Kennedy Wilson Brokerage team brought an incredible roster of tenants to the project, which has become the vibrant community destination we envisioned," said Mike Racine, Executive Vice President with Hackman Capital Partners. "We're thrilled to see Erewhon open today and excited to see the surrounding community continue to enjoy what The Culver Steps has to offer in the years to come."
"Destination retail is the name of the game," said Deschaine, "and Hackman Capital has provided the Culver City community with a true oasis where visitors are encouraged to spend time."
Designed by Ehrlich Yanai Rhee Chaney Architects, the project was a former parking lot and officially opened in 2019 with Amazon Studios as its major tenant. Per Placer.ai, The Culver Steps has experienced an increase in overall visits by 60% over 2021 and a 13.2% increase in trade area drawing from over 43 square miles. With the opening of Erewhon, visitation is expected to continue to trend upward for the remainder of the year.
About The Culver Steps
The Culver Steps is a dynamic 120,000-square-foot mixed-used development located between The Culver Studios and The Culver Hotel in downtown Culver City, the heart of Los Angeles' historic hub of television, movie and media production.
The Culver Steps takes its name from the grand staircase that connects an elevated pavilion to the ground-level plaza, with the landscaped stairs also doubling as amphitheater seating for outdoor events. The Culver Steps was designed by EYRC Architects. SWA Group was the project's landscape architect, and KPRS Construction served as the general contractor. IDS Real Estate Group is The Culver Steps' property management firm, and Kennedy Wilson Brokerage's Lee Shapiro and Christine Deschaine oversaw the retail leasing efforts.
The center features approximately 40,000 square feet of retail space, 80,000 square feet of creative office space occupied by entertainment giant Amazon Studios, a nearly one-acre public plaza, and two levels of underground parking. Now fully occupied, The Culver Steps boasts a number of popular retailers, services and restaurants, including Erewhon Market, Sephora, CorePower Yoga, Philz Coffee, Mendocino Farms, Salt & Straw, and Pop's Bagels. For more information, visit https://theculversteps.com or follow The Culver Steps on Facebook or Instagram.
About Kennedy Wilson Brokerage
Kennedy Wilson Brokerage, a division of Kennedy-Wilson Properties, Ltd., is a leader in the leasing and sale of commercial real estate, representing institutional and private capital investors and tenants across the United States. Our capabilities include investment sales and acquisitions, agency leasing, tenant representation, corporate services, valuation and advisory services. For more information, visit www.kennedywilsonservices.com/brokerage.
Kennedy-Wilson Properties, Ltd., is independently owned and operated and not a part of Kennedy Wilson Holdings, Inc. or any of its subsidiaries and affiliates.
For more information, visit www.kennedywilsonservices.com